The cosmopolitan city of Montréal, Québec, is one of the most vibrant cities in Canada. It has a flourishing arts and culture scene, 375+ years plus of history, festivals galore, and amazing food – from chewy bagels to silky poutine and ethnic cuisine of all tastes and flavours. Like New York, Montréal is a city of neighbourhoods that crowd up against each other, each with unique characteristics, ethnic histories and atmosphere. We're helping to narrow down the choices by highlighting some of the best places to stay in Montreal that mix the cool and hip factor with local authenticity, great food, and family-friendly hotel accommodations.
Best Places to Stay in Montreal for Families
Montréal is a very family-friendly city that offers something for kids of all ages. From seasonal festivals to active attractions and culinary experiences, you won't get bored or hungry in this town. Choosing where to stay in Montreal will depend on budget, interests and transportation. The city's Metro subway system can get you just about anywhere in Montreal, so you won't need a car unless you're on a road trip.
If you're staying for more than a few days, consider establishing a home base in one of the neighbourhoods highlighted below. Live like a local and get into the spell and rhythm of Montréal over a long weekend. Visiting Quebec in winter? Check out these twelve winter activities to enjoy in la belle province.
Use the map below to search for hotel and short-term rental options
Cool Montreal Neighbourhoods for Families
Plateau Mont-Royal
When it comes to where to stay in Montréal, families can't go wrong choosing the vibrant and colourful neighborhood of Plateau Mont-Royal. While the community has gentrified over the years, its proximity to McGill University and the green heart of the city, Mont-Royal, keep it young, hip and close to nature. This is the place to meet new people, taste delicious food, and discover the best of Montréal from a local perspective.
The Plateau Mont-Royal neighborhood is filled with artists, cafés, shops, restaurants, and nightlife. Wander the streets past charmingly restored townhouses and take the kids 'up the mountain' to play and enjoy the wide open spaces and parks of Mont-Royal. This is one of the hippest neighbourhoods in North America with a mix of classic institutions, college vibe, and a flourishing scene of new stores and eateries opening up all around. It's also got lots of great street art, the perfect backdrop for family photos.
There are lots of Airbnbs to choose from in this residential area. Or check out the ITHQ Hotel, where kids can experience a bit of in-suite 'urban camping' and sleep in their own tent.
Hochelaga-Maisonneuve
Travelling families looking to enjoy city life like the locals should check out the charming streetscapes and green spaces of Hochelaga-Maisonneuve, or HoMa for short. Visitors know Montréal's east end for its major attractions, such as the Olympic Stadium and the four Space for Life nature museums. HoMa is where real life happens: people getting on with their day-to-day, going to work, to the market, to school, to the park. This east end community is a thriving urban village with a friendly, small-town feel. Historically, this community was a thriving industrial municipality with a largely francophone (90 percent) working-class neighbourhood that offers a candid glimpse into Montréal's francophone history.
From the bustling Maisonneuve Market to Promenade Ontario to Sainte-Catherine Street East, the recycled industrial buildings mesh with an eclectic mix of small local businesses, restaurants, cafés, local artisans, and socially-responsible boutiques. There's no lack of things to do in HoMa, either indoors or out. Maisonneuve Park offers a vast 4-season playground, and Morgan Park with its water fountain, beautiful landscaping and magnificent bandstand is a neighbourhood family favorite. Each summer, Ontario and Sainte-Catherine Street East transform into a festive outdoor venue featuring entertainment and activities for residents and visitors alike. Streets are closed off to traffic, patios are buzzing, sidewalk sales abound and people just come out to experience the HoMa summertime vibe.
Again, there are lots of Airbnbs to choose from in HoMa, or check out Hotel Universel. It's perfectly situated near the Olympic Stadium, Montreal BioDome, Botanical Garden and the Metro subway. No car required.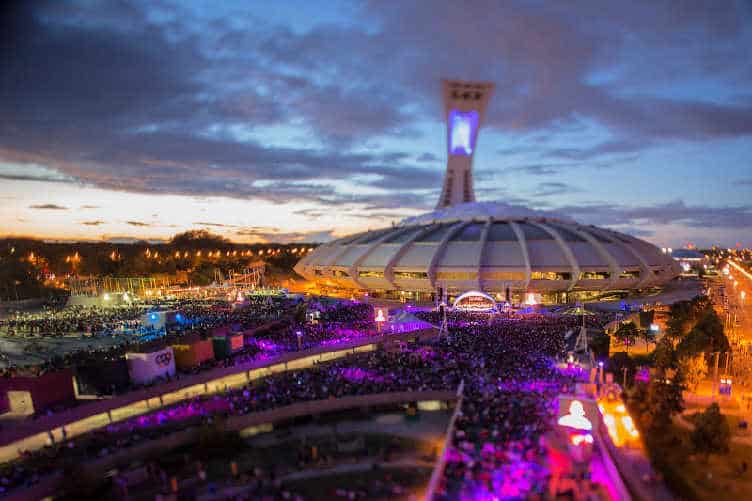 The Old Port Area
The classic and beautiful Old Port – Le Vieux Port – of Montréal is a fantastic area to stay and play. It's less of a residential area than a historic 'center of it all' filled with shops, restaurants and family-friendly activities. Which makes it one of the best places to stay in Montreal for families keen on tackling all the activities the city has to offer.
Take a spin on the La Grande roue ferris wheel, test your rope skills at the pirate-themed Voiles en Voiles course, walk down some walls at Decalede, zip over the water at MTL Zipline and skate on the Old Port's ice rink in winter. The Pointe-a- Callière Archaeology and History Complex is a must see for those interested in the history and founding of one of the oldest cities in North America. 
If you need a break, pop into nearby Maison Christian Faure bakery to enjoy decadent pastries, hot chocolate and handmade macarons. If vacation time allows, sign up for a family cooking class in the upstairs kitchens above the store, where you can learn to make your own macaron.
There are many fantastic Montreal family hotels to choose from in and around the Old Port area. Some of the best hotels in Old Montreal tend to be on the luxurious side, such as Le Saint-Sulpice and Place d'Armes. Both are great Montreal hotels for families, offering kid-friendly touches. Place d'Armes has special family deals that include larger suites, special treats for parents and kids, continental breakfast at the hotel's Brasserie 701, tickets to La Grande roue, and complimentary cots or cribs. Best of all, children 12 years and under stay for free.
Little Italy
I have to put this neighborhood on the map, as I have personal history in this vibrant community. The Italian roots of Montreal go way back to the 17th century, though mine date to my father's and grandparents' migration to the city and Canada in 1957. The core of Little Italy was and remains centered on food and the church – the Jean Talon Market and the Church of the Madonna della Difesa. You'll find many Italian eateries to choose from (too many to name), and an incredibly popular Southern fried chicken joint, Dinette Triple Crown. Because Italians love food of all kinds! Tip: This and the Jewish Quarter are close to Plateau Mont-Royal's hotel and accommodation options.
Historic Jewish Quarter
Technically, this neighborhood is within the Plateau Mont-Royal boundaries, but it's worth highlighting as the Jewish community in Montreal is one of the oldest in Canada. It's produced some of the city's most iconic and beloved foods, like bagels and smoked meat. The Jewish Quarter is home to arguably the best bagle bakery in the city, St. Viateur, and Schwartz's deli, at 90 years old, the oldest in Canada. Visit the Museum of Jewish Montreal to discover the full history of the community, and sign up for one of their food or walking tours to gain a true appreciation of the community.
Find the perfect place to stay in Montreal below
Downtown Montreal
For those looking to stay in the heart of the downtown core, the Fairmont Queen Elizabeth is an excellent choice. This landmark luxury hotel has been completely renovated and reopened in 2017, and is one of the best places to stay in Montréal. Every one of its 950 rooms was updated, including the famous Bed-In for Peace suite occupied by John Lennon and Yoko Ono in 1969. They composed and recorded Give Peace a Chance in this room, which can be also be booked for an overnight stay.
We haven't even touched upon the rotating calendar of festivals that happen every month. Montréal is Canada's festival city, with more than 90 festivals every year, including the world-famous Just for Laughs and Jazz Festivals. Montréal is a city for all seasons, tastes and ages – it really does have something for everyone in the family.
Pin for Later
Photo Credits: Claudia Laroye; Tourism Montreal (Madore, Daphne Caron, JF Leblanc, Alison Slattery, Eva Blue, Parc olympique, Vieux-Port de Montréal, Pointe-à-Callière, Marc-Antoine Zouéki, and Alice Gao/Commission Canadienne du Tourisme)
Disclosure: This article contains affiliate links. Thank you for your support.
Latest posts by Claudia Laroye
(see all)